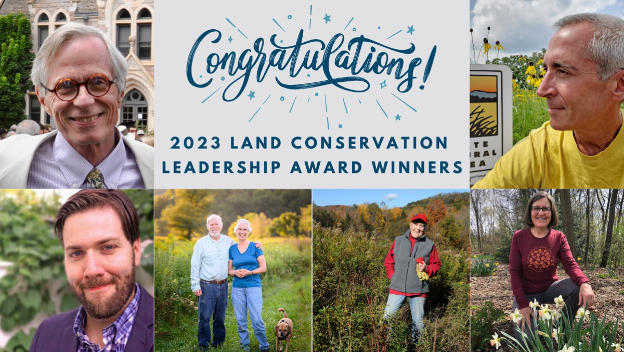 Gathering Waters is pleased to announce the winners of the 2023 Land Conservation Leadership Awards!
Each year, Gathering Waters commends individuals and organizations that have invested their time and talents to protect Wisconsin's land, water, and wildlife. Each award winner was nominated based on their contribution to the conservation community.
The Land Conservation Leadership Awards are our way of honoring and thanking conservation leaders for their dedication to land conservation in Wisconsin. We are grateful to these individuals for their unwavering dedication to land conservation, and we're excited to celebrate their accomplishments.
Gathering Waters will present the awards to the winners at local events in the winner's community throughout the year.
Meet the 2023 Land Conservation Leadership Award Winners
Bill O'Connor – Harold "Bud" Jordahl Lifetime Achievement Award
William (Bill) O'Connor has played a key role in Wisconsin's land trust movement for more than 40 years. As a private lawyer, he helped organize and incorporate several of the state's land trusts, and has been involved in various leadership roles for the national Land Trust Alliance. Bill has provided legal services to the land trust community and scores of conservation landowners. As a legislative advocate, he spurred passage of the Wisconsin Conservation Easement Act, state tax policies favoring land trusts, and landmark legislation supporting a public-private partnership for conservation through the Knowles-Nelson Stewardship Program.
Thomas Meyer – Harold "Bud" Jordahl Lifetime Achievement Award
Thomas Meyer recently retired after a 38-year career with the Wisconsin Department of Natural Resources (DNR). Since 1993, his sole focus was the State Natural Areas (SNA) program. He is the longest tenured SNA staff member to date. A respected ambassador for land conservation, Thomas acted as a liaison between DNR and many program partners including land trusts. He helped funnel federal and state funding toward conservation, advising grant managers for the Knowles-Nelson Stewardship Program since its inception. Thomas is perhaps best known for promoting the wonder and importance of natural areas to Wisconsinites through his photography, writing, and collaboration with PBS-Wisconsin, and as a field trip guide for the Natural Resources Foundation of Wisconsin.
Stephen and Susan Carpenter – Land Legacy Award
Stephen and Susan Carpenter are partners in life and in conservation. Both have devoted their careers to conservation and are lifelong advocates of good land stewardship. Steve is an emeritus professor at UW-Madison's Center for Limnology where he has focused on fisheries and water quality of Wisconsin's lakes. Susan is the native plant garden curator at the UW-Madison Arboretum and an advocate for native plants and pollinators, especially bumblebees. Outside of their professional accomplishments, Steve and Susan work to preserve and restore their land along the Blue River in the Driftless Area.
Marilyn Houck – Working Lands Preservation Award
Marilyn and her late husband, Kent, spent decades caring for their land near Richland Center, Wisconsin, raising llamas on the lush pastures and sustainably farming acres of crops and hay as well as supporting many acres of working forest land. Marilyn's vision and drive to care for her land led her to reach out to Mississippi Valley Conservancy to pursue a conservation easement on her 993-acre farm to ensure legal protection of the property beyond her lifetime.
Tom Stolp – Land Trust Professional of the Year
Tom Stolp has been the executive director of Ozaukee Washington Land Trust (OWLT) for nearly seven years. Last year, he was instrumental in conserving the Cedar Gorge Clay Bluffs, a 134-acre preserve in Port Washington. The project was over a decade in the making, but came to a screeching halt after previously approved funding through the state's Knowles-Nelson Stewardship Program was withheld by the legislature's Joint Finance Committee. Tom successfully led OWLT to rally widespread public support for the project, raise additional funds, and call on elected officials to permanently protect Cedar Gorge Clay Bluffs, a major win for land conservation.
Nancy McGill – Land Trust Volunteer of the Year
Nancy McGill has volunteered with Groundswell Conservancy for more than 10 years, logging over 2,000 hours of time in support of land conservation. Nancy's aptitude for organization and project management has allowed her to support the land trust through two successful rounds of applying for national accreditation through the Land Trust Alliance. She has helped to update policies, assist with project research, document Groundswell's conservation easement process, and digitize 40 years of office records.