Resources for Land Trusts
Gathering Waters offers tools, training opportunities, and other services to all land trust members in Wisconsin.
Click below to jump to a section.
Gathering Waters offers workshops, training opportunities, an annual conference, and other services to all land trust practitioners in Wisconsin. Current and upcoming learning opportunities are listed below. Questions, feedback, and suggestions are most welcome and can be directed to Meg Domroese, Director, Programs and Impact.
Wisconsin Model Conservation Easement
The Wisconsin Model Grant of Conservation Easement and Declaration of Covenants offers a guide for discussing and drafting conservation easements.
This model is intended to:
reduce the time and cost of drafting a conservation easement
encourage uniformity and improve clarity
offer a legally enforceable and durable agreement that can be adapted consistent with the parties' conservation and other goals
conform to current laws and regulations, including those on tax deductibility, and
promote best practices
 
Each easement is unique to the conservation values and characteristics of the land, current and future landowner goals and needs, as well as policies and practices of the land trust, and must be tailored to accommodate these interests and needs. Thus, the Wisconsin model provides a reference and should not be used in lieu of legal review.
The Wisconsin model is the result of dedicated effort by a task force, comprising attorneys and land trust practitioners, who carefully considered structure and language to promote best practices and enforceable legal agreements consistent with conservation goals and current laws.
The Wisconsin model follows the general structure of the WeConservePA model for Pennsylvania and is tailored to Wisconsin law and other local considerations.
WeConservePA provides expansive commentary covering alternative and optional provisions and the reasoning behind the structure and content in the Pennsylvania model. The most recent edition of this commentary is available for free download at conservationtools.org.
WI Model Conservation Easement Practitioner Guide (PDF)
WI Model Conservation Easement Practitioner Guide (Word)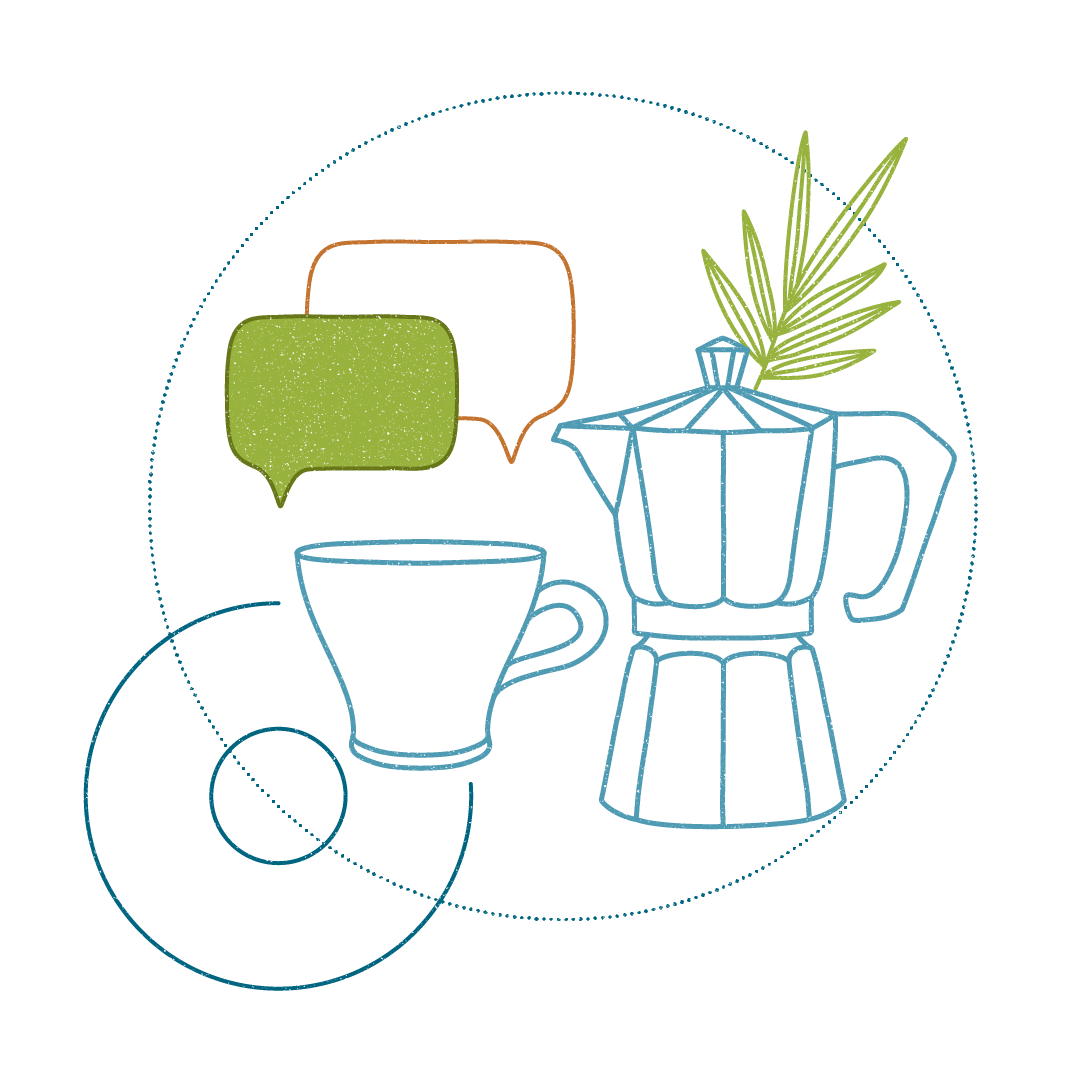 Monthly Peer Conversations for Land Trust Staff
Connect with people who understand what you do. Learn from and support one another. Join your land trust staff peers for informal conversation on Zoom. Contact Meg for information.
Executive directors meet second Tuesday of the month at 1 pm
Land protection & stewardship staff meet third Wednesday of the month at 1 pm
Communications and fundraising staff meet second Friday of the month at 11 am
Operations & finance staff meet third Tuesdays at 1 pm
WI Land Trusts Slack Workspace
We have launched a Slack workspace for Wisconsin land trusts. Slack is a messaging app where you can organize conversations, collaborate, and share links and files. Conversations are underway in channels for Land Protection and Stewardship and WI Model Conservation Easement. More will be added as there is interest. Contact Meg for information.
The Land Conservation Law Program is an innovative program with two main objectives: to provide legal services directly to Wisconsin land trusts, and to deliver education and training to attorneys across the state in order to broaden a community of legal practice available to support land trusts and land owners in land conservation transactions.
By convening a Land Conservation Law Advisory Council to guide the service offerings and development of educational materials, the Program brings a broad range of experience and expertise to the benefit of Wisconsin's land trusts.
The services provided by the Program are intended to supplement, not supplant, existing relationships lands trusts may have with legal counsel, and offer Wisconsin land trusts a more accessible and cost effective means of addressing questions as they arise.
A Land Conservation Law Program staff attorney is available to land trusts to answer general questions about conservation transactions and land trust operations through a subscription-based hotline, and also to provide a menu of legal services—such as easement drafting and title review—on an hourly basis.
To learn more about the Land Conservation Law Program, contact Chris Gutschenritter at chris@gatheringwaters.org or visit the Program website to set up an appointment.
Gathering Waters is proud to provide a comprehensive geodatabase of land trust protected areas in Wisconsin.
The geodatabase is only available to our land trust members. Need help accessing the data? Email Charles Carlin, Director of Strategic Initiatives.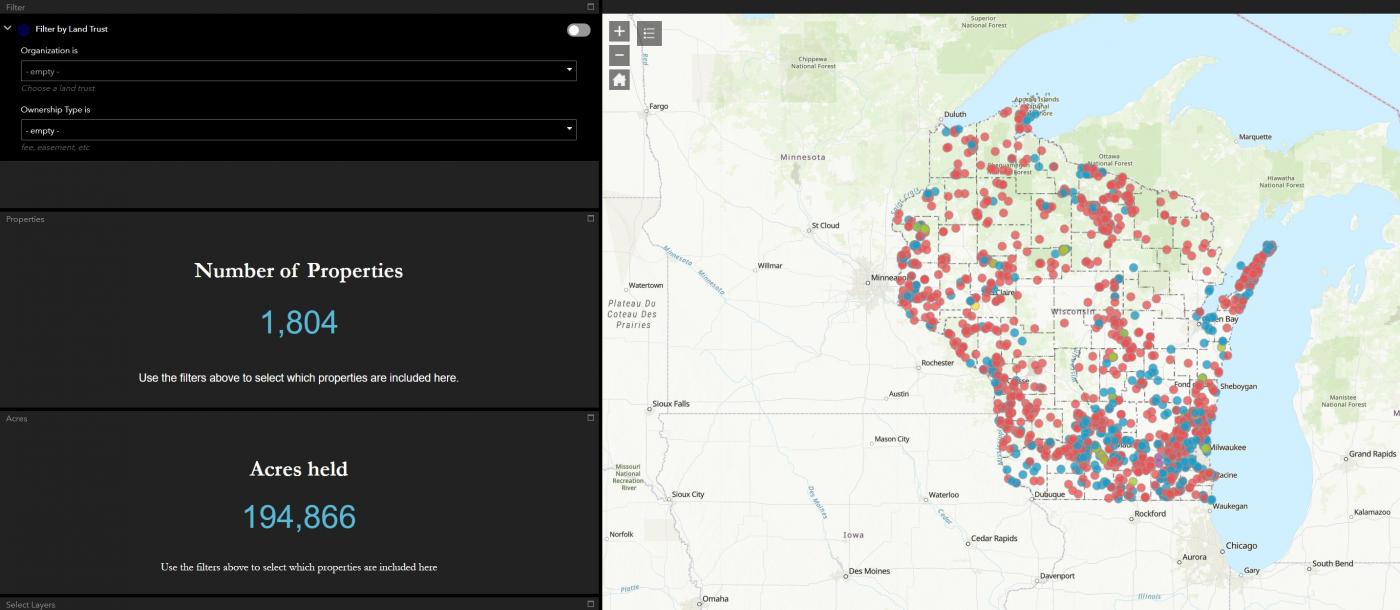 GIS Resources
Interactive web map. The interactive viewer provides easy access to land trust holdings as well as other data that land trusts often use including: DNR protected areas; the statewide parcel database; and Important Bird Areas. We welcome suggestions on other data to include in this viewer or other interactive tools you would like to see offered by Gathering Waters. Please note, the viewer is designed to be used on a full-screen web browser. We're working on mobile-friendly versions.
GIS Feature Service. This link provides access to the GIS data itself, which you may work with in your ESRI GIS software of choice. Please note, you'll need to be logged in to an ArcGIS account that has been granted access in order to use the data. Questions? Just email Charlie. Using this feature service instead of static shapefiles will ensure that you are always accessing the most up-to-date version of the land trust geodatabase.
GIS Decision Support Tool. This tool is intended to aid conservation planning efforts by putting a tremendous amount of data at land trusts' fingertips as well as robust filtering capabilities to quickly zero in on particular geographies and conservation priorities. Available to Gathering Waters member land trusts, access the tool at this link if you access ArcGis Online through Gathering Waters. If you are a member of your own organization's ArcGis Online space, access the tool through the "Land Trust Member Files" group hosted by Gathering Waters. Email Charlie if you need access to either space. For more information, read this blog article.
The above links may change from time to time. Check back here for updated links and new offerings.
How to access the data?
Access to the data requires an organizational (paid) ArcGis subscription. Through your ArcGis ID, Gathering Waters can provide your land trust with access to GIS data through a password protected interface.
If you have an organizational (paid) ArcGis subscription, email Charlie with your user id.
No ArcGIS account? No problem. If you do not have an ArcGis account, get in touch with us and we can get you set up.
Are you a researcher or affiliated with a partner organization and need access to the land trust geodatabase for your work? We are able to make a version of the land trust geodatabase available to researchers and partners on a case by case basis with some restrictions on use. Please contact us for details.