The sixth annual Wisconsin Land Trust Days celebration just wrapped up on September 30. With 43 events hosted by 21 land trusts, we've been having so much fun for the past three months!
Land Trust Days kicked off on July 1 this year with the Powell Spring Conservancy Open House hosted by Green Lake Conservancy. About 400 people attended this event, visiting the newly protected property for the first time. What a great start!
Another highlight was Tall Pines Conservancy's Ride to the Barns, an annual bike ride in August that draws upwards of 500 people.
Glacial Lakes Conservancy welcomed people to experience the outdoors in various ways, including natural journaling, yoga, and stargazing at local preserves.
Geneva Lake Conservancy hosted seven events this year, welcoming families to experience their iconic fishing park and learn about raptors.
Mississippi Valley Conservancy invited people to the Kickapoo Caverns for bat cave tours.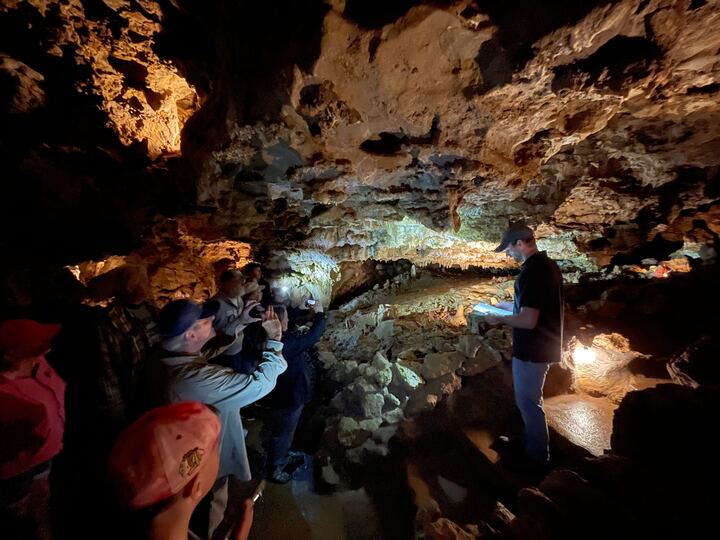 Volunteers helped the Ice Age Trail Alliance build new sections of trail and collect prairie seeds for future restoration efforts.
Driftless Area Land Conservancy shared the ins and outs of land management at a nature preserve to show the difference that just a few years of good land management can make.
The Ridges Sanctuary and Cedar Lakes Conservation Foundation taught participants about monarch butterflies.
Madison Audubon (now Badgerland Bird Alliance) and Groundswell Conservancy invited people to experience some of the most well-loved preserves in the greater Madison area.
The Prairie Enthusiasts devoted an afternoon celebration to Land Trust Days, welcoming people to a local preserve for a variety of activities.
Milwaukee Area Land Conservancy, along with guides from the Wisconsin Mycological Society, helped people identify different types of wild mushrooms.
Landmark Conservancy, Northwoods Land Trust, and Ozaukee Washington Land Trust all hosted paddling adventures.

Baird Creek Preservation Foundation scheduled a volunteer work day in honor of National Public Lands Day on the last Saturday of September.
North Central Conservancy Trust welcomed a crowd to join their Annual Harvest Dinner in late September to enjoy live music, food, and more.
Caledonia Conservancy hosted their annual Mane Event for participants on horseback, and finished out Land Trust Days with their Fall Festival on September 30.
And sprinkled through the entire three-month time period of Land Trust Days were many nature hikes.
We can't know for sure how many people attended these events or visited land trusts, but it's safe to say the number of participants is in the thousands, and many of these people were new to the land trust community!
We are so grateful to all the land trusts that hosted and welcomed people to their properties to #HaveFunOutside! Thank you to the dedicated staff and volunteers who worked tirelessly over the past few months.
Just because Land Trust Days is over doesn't mean the fun has to stop. Many land trust properties are open to the public year-round to explore, and land trusts host events year-round. Find a list of land trust events on our website here: gatheringwaters.org/events-calendar
Thanks to everyone who attended an event or visited a land trust property during Land Trust Days! We hope you had fun and learned a little bit more about land trusts and the important work they do.
Featured image by Roberta Herschleb during Groundswell Conservancy's Hike at Hauge Historic District Park. Cave photo by Mike Carlson at Mississippi Valley's Conservancy's Bat Cave Tours, and paddling photo by Susan Buchanan at Tall Pine Conservancy's 9th Annual OWPP Paddle .